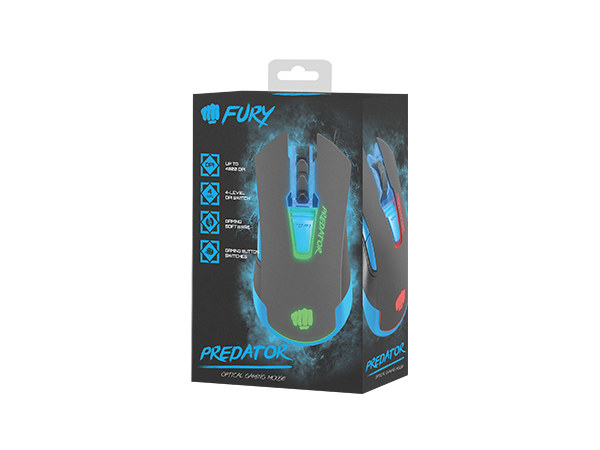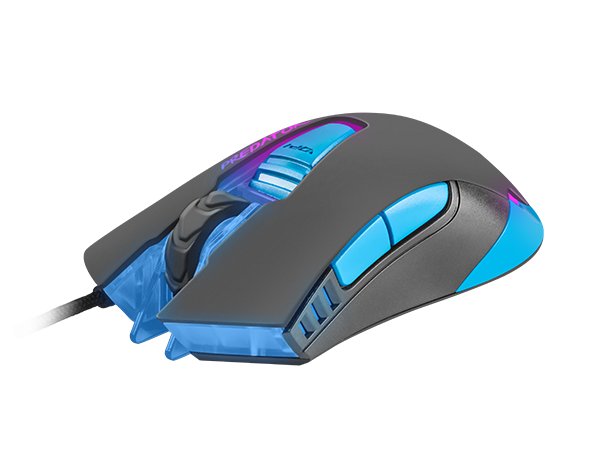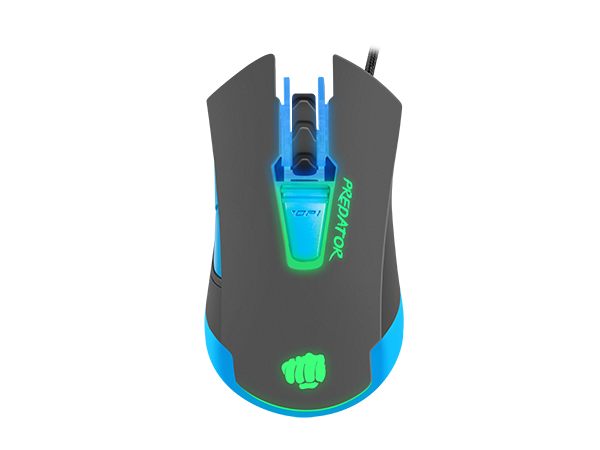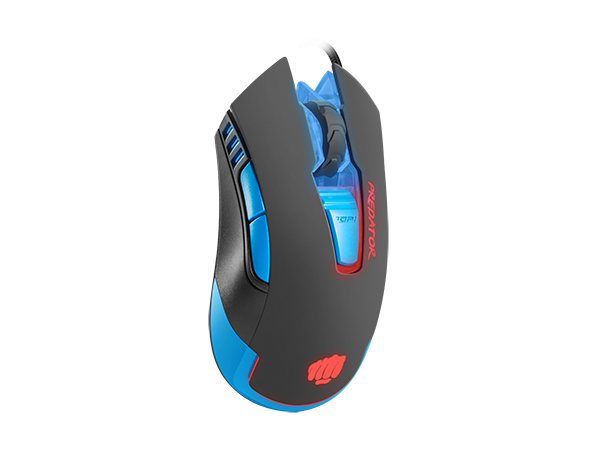 FOR TRUE PREDATORS
---
On the virtual battlefield only the most persistent gamers with the hunter's instinct and a warrior's prowess will survive.
Such gamers are true predators, who always achieve their goal. Thanks to a properly chosen mouse, every predator will have an easier job in defeating all obstacles on the road to victory.
The Fury Predator mouse is an ideal choice for virtual predators.
PRECISION AND SPEED
---
The heart of the Predator mouse is a precise optical sensor with a maximum resolution of 4800 DPI.
Additionally, the DPI level can be switched to one of four levels during gameplay using the DPI Level Switch button. The mouse also distinguishes itself by its high reaction rate of 1 millisecond (1000 Hz).
BACKLIGHTING AND DURABILITY
---
The mouse features multi-colored LED backlighting and option to switch between "breathing" and "neon" modes.
The quality of the Fury mouse is based on a solid foundation in the form of sturdy elements, such as durable buttons with a lifetime of up to 10 mil. clicks, or a nylon braided cable characterized by increased strength.
COMFORT
---
The surface of the mouse is coated with a layer of rubber, which guarantees a secure grip even during exciting and fast gameplay.
The Predator mouse features advanced software with a macro and profile editor. With it, the gamer gains the ability to adapt the buttons and functions to their own preferences.
FURY PREDATOR IN THE BATTLEFIELD
---
The Fury Predator mouse is an ideal choice for virtual predators.
Sensor: 
OPTICAL [4800DPI]
Resolution range: 
1200 / 2400 / 3200 / 4800 DPI
Number of buttons: 6
Backlight: 
YES [MULTICOLOR]
Sliders: 
TEFLON
Intended for: 
FOR GAMERS
Interface: 
USB 2.0
Cable length: 
160CM
Cable braided: 
YES
Dimensions: 
126×69×39MM
Weight: 
102G [WITHOUT CABLE]